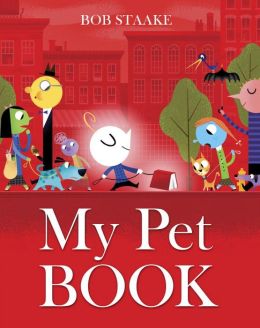 My Pet Book by Bob Staake











Review
I think you must agree with me when I say that books make the best pets! Books do not bark, meow, or make a mess. Books are loyal companions that you can tote along everywhere with you. They won't disturb your seatmate on the subway, they definitely don't need to be fed. In this book, a creative little boy finds a very unusual pet-a book. When the book goes missing, the journey to find it will have readers wishing for a happy ending.
Fun Reading Questions
What do you think is the best pet? Why?
What would you do if you saw someone with a pet book?
What was your favorite part of the story?
About the Author
A graduate of the University of Southern California, Bob Staake is an illustrator and author who has written several books to delight young readers. Mr. Staake has also illustrated for several famous publications including the New Yorker, TIME, and Vanity Fair. Mr. Staake lives in Chatham, Massachusetts.
Product Details
Publisher: Random House Children's Books
Publication date: 7/8/2014
Pages: 40
Age range: 3 - 7 Years
Lexile: 560L