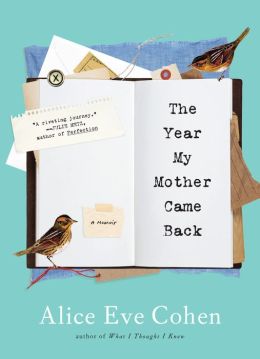 From the minute I opened the pages of this book, I was immediately drawn in to the story. Cohen's writing style is such that you are aware that you began reading a memoir, but it is as if you are talking to an old friend. You are in the midst of a conversation about life being hard, and about how each of us struggles through the journey. Motherhood, marriage, health and wellness. It is all part of the path we must take. We cast blame on ourselves for the things that can and do go wrong. How many of us have thought that something that happened to us was the result of our own creation? On this point, the struggle, we are all on an even playing field. We kick that ball around until it goes out of bounds. Then we sit and wonder how we can get it back in bounds, so that everything is flowing and the game is once again being played. I was born into this world a woman, and for that simple fact I have been equally blessed and cursed. The author details her struggle with her body, the breast cancer diagnosis and subsequent surgery that trumped the surgery her daughter so desperately needed. Once again, the ball runs out of bounds. It is when we need our mothers the most that they are with us both in life, and after death.
Such is the case for Alice, whose mother appears to her thirty years after her death.
The fondest memories of my childhood are of times spent with my parents, particularly my mother. My own mother stood up for everyone, but especially for the voiceless. The small people who couldn't rise up in protests for themselves. I smiled fondly when Alice shared the story of her mother below the tide line, defiantly refusing to leave a rich man's property because the ocean should be for everyone to enjoy. It was so reminiscent of my own mother. refusing to give up on a fight she knew was an important one to teach. After all, her daughters were watching.
This book was quick, and enjoyable, and I made many connections to this novel as one of my favorite books The Middle Place by Kelly Corrigan.
*A huge "thank you" to
Book Sparks
for a copy of this book in exchange for a review.*
About the Author
Alice Eve Cohen is a writer and solo theatre artist. Her new memoir, The Year My Mother Came Back was published by Algonquin Books in March, 2015; audiobook (read by the author) published by Highbridge/​Recorded Books. Her first memoir, What I Thought I Knew (Viking /​ Penguin) won the Elle's Lettres Grand Prix for Nonfiction; it was selected as one of Oprah Magazine's 25 Best Books of Summer and Salon's Best Books of the Year. Her solo theater adaptation of the book has been produced at the Kitchen Theatre in Ithaca and other venues. She has written for Nickelodeon, CTW, and CBS, and has toured her solo shows and plays to theatres, festivals and schools, nationally and internationally. Her writing about arts in education has been published in nine languages, and she has written for various print and online publications. The recipient of fellowships and grants from the NYS Council on the Arts and the NEA, she has been an artist-in-residence at Virginia Center for Creative Arts and Voice & Vision Theatre's Envision Retreat. She was a writer-in-residence at Frank McCourt high school for writing and journalism, and has taught writing and performance workshops at schools and universities around the country. She holds a BA from Princeton University and an MFA from The New School. Alice teaches at The New School and lives with her family in New York City. She is currently working on a novel.